Our range of Christmas top sellers…
Prepared Red Meats

STEAK & GUINNESS PURSE
Prime naturally grass reared beef steak in a rich Guinness gravy all enclosed in a handmade puff pastry purse and finished with parsley, paprika and egg wash. Available in 270g and 240g portions.
> Our top selling purse classic pastry fold
> Lean natural grass fed beef steak
> Real Guinness and handmade pastry purse
> Great on plate presentation
> Easy prep from frozen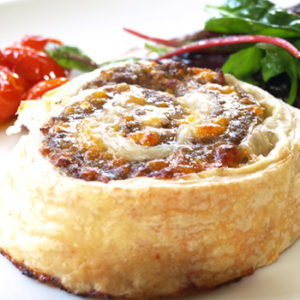 BEEF & HORSERADISH ROULADE
Nottinghamshire Beef with piquant horseradish, Cheddar and red onion rolled in handmade puff pastry.
> Large 200g serving
> Full of Nottinghamshire beef
> Simply cook from frozen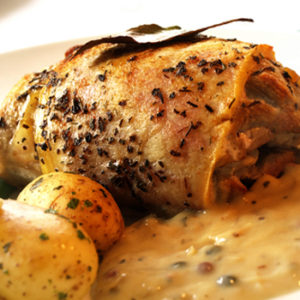 SHERWOOD STUFFED PORK
British Red Tractor pork tenderloin, stuffed with a farmhouse sage & onion stuffing, all wrapped in a prime back bacon and garnished with a bay leaf.
> Vac Packed
> Garnished with Bay Leaf
> Large 235g portion
> Portions individually flow wrapped
Prepared Game Meats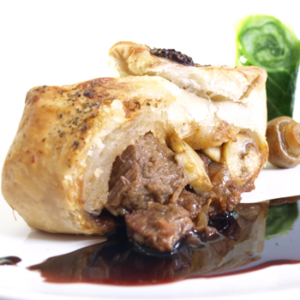 VENISON EN CROUTE
Slow cooked lean venison in a rich red wine sauce with mushrooms, all encased in handmade puff pastry.
> Diced lean venison
> Rich red wine
> Handmade pastry
> Large wholesome portion
Prepared Poultry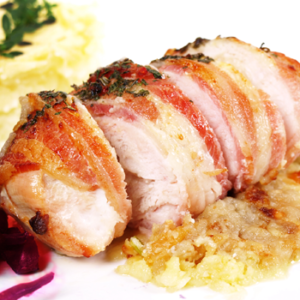 PORT & STILTON CHICKEN
Prime British chicken breast stuffed with Port & Stilton and wrapped in streaky bacon and basted with butter and herbs.
> British chicken breast
> Filled with port and stilton
> Wrapped in British bacon and basted in butter
> Roast in the oven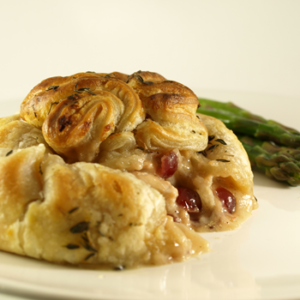 BRANDY & CRANBERRY CHICKEN
British chicken fillet in a cranberry cream and brandy sauce all wrapped in handmade pastry purse finished with fresh thyme and egg wash.
> British chicken fillet
> Rich sauce of cream, brandy and cranberries
> Handmade puff pastry
> Easy preparation – oven cook from frozen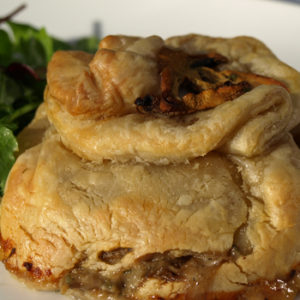 CHICKEN & WILD MUSHROOM EN CROUTE
Chicken with cream, white wine and wild mushrooms, garnish with mushroom slices with French herbs.
> Large 270g en croute
> Made by hand in our renowned puff pastry folded as a purse
> Ample quantity of diced chicken breast with wild mushrooms and in a rich cream and white wine sauce
> Attractively garnished with sliced mushrooms and decorative French mix herbs for an impactful frozen presentation
> Simple ovenbake cooking from frozen
Prepared Duck & Turkey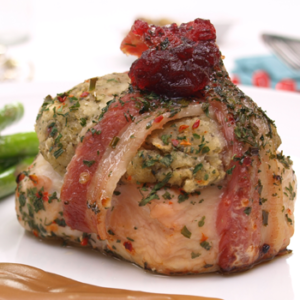 TURKEY TOURNEDOS
British prime turkey medallion topped with sage & onion stuffing all wrapped in rashers of bacon.
Prime British Turkey breast
> Rich handmade stuffing
> From scratch look presentation
> Large 240g portion
> Oven from frozen or chilled
WOODLAND DUCK
A whole duck breast, boneless, raw with skin on in an orange glaze with a fruit garnish.
> Individually vacuum packed
> Boneless
> Large consistent portions
> Attractive garnish
Prepared Seafood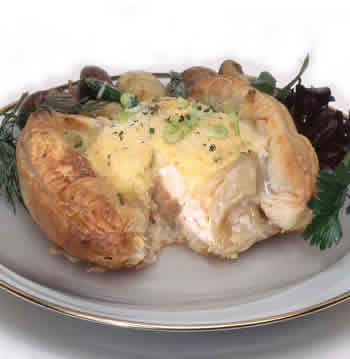 SALMON & LOBSTER EN CROUTE
Atlantic Salmon fillet portion in a lobster sauce with tomato, basil and crème fresh all enveloped in puff pastry crusted with parmesan and salad prawns.
> Hand prepared and attractively garnished
> Generous 225g portion
> Large Atlantic Salmon fillet portion
> Lobster sauce with Parmesan crust finish
> Simply cook from frozen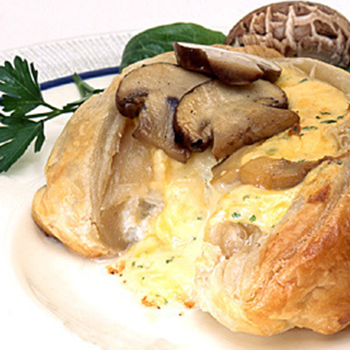 COD WELLINGTON
A skinless and boned prime Cod in a rich cheese, prawn & mushroom sauce wrapped in a pastry purse finished with a sliced mushroom and parsley.
> Prime Atlantic Cod Fillet Portion, skinless and boneless
> Rich sauce made with cream
> All made and garnished by hand
> Puffs to be a very good sized centre of plate presentation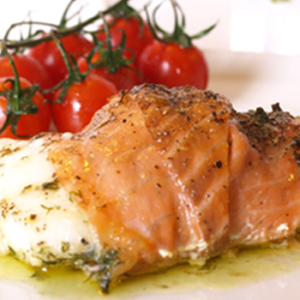 BUTTER WRAPPED COD
A loin of Atlantic Cod, skinless and boned, wrapped in smoked salmon with herb butter.
>Atlantic Cod Loin
>Simply oven from frozen or chilled
>Best cooked in a ceramic dish so the herb butter can be basted over the top.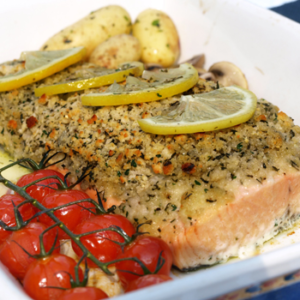 SALMON SIDE WITH HERB CRUST
A side of Atlantic Salmon topped with a lemon and tarragon crust finished with lemon slices. Roast from frozen. Serves: 3-5.
> Atlantic Salmon Fillet boneless
> Rich crust of breadcrumbs, lemon, cheddar and tarragon
> Roast from frozen
> Individually wrapped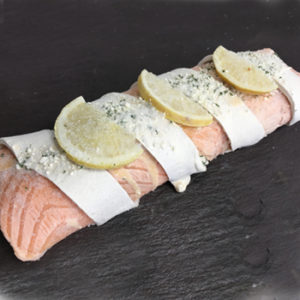 SALMON ROULADE
Atlantic Salmon fillet rolled around a spinach and cream cheese filling then topped with puff pastry. Simply roast from frozen. Product shown frozen.
> 500g Roulade
> Serves 3 – 4
> Each Roulade is individually wrapped
> Roast from frozen
Prepared Vegetarian Food
CALABRIAN EN CROUTE
This delightful looking vegetarian en croute packs a flavour punch!
> The combination of goats cheese, olives and spinach works wonderfully well
> Finished with crumbled goats cheese and olives
> Roast from frozen
Like to know more? Do ring us on: 01472 311955