New Christmas range products for 2018.
This page just shows our new products for this Christmas you can see our top sellers for the festive season HERE.

Turkey Roulade
A prime turkey breast portion filled with a cranberry stuffing and wrapped in streaky bacon.
> Large 240g serving size
> Prime British Turkey breast meat portion
> Surrounded in Streaky Bacon
> Filled with a Cranberry stuffing
> Simply oven from frozen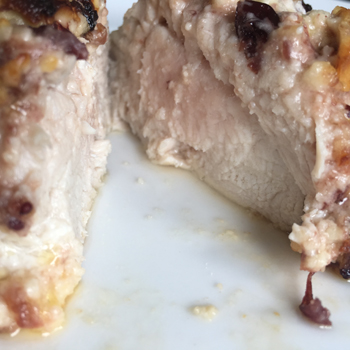 Wensleydale Turkey
Turkey escalop topped with Wensleydale Cheese and infused with Cranberries.
> Large portion of skinless and boneless turkey escalop
> Topping of Wensleydale infused with Cranberry Sauce
> Simply oven from frozen or defrosted

Salmon & Spinach Wellington
Prime skinless and boned Salmon in a rich butter and prawn sauce wrapped in a puff pastry purse finished with asparagus and chopped parsley.
> Good sized portion of Atlantic Salmon
> Rich butter sauce with Spinach and Atlantic prawns
> Puffs to give very good plate coverage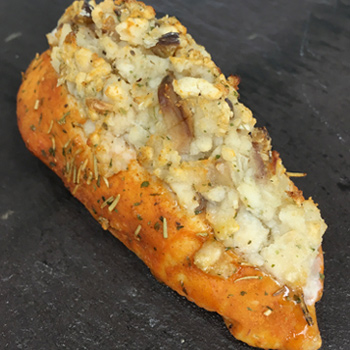 Normandy Chicken
A large succulent and tender Chicken Breast coated in a rosemary & garlic glaze stuffed with Chestnut stuffing.
> Simply oven from frozen
> Large 200g portion
> Colourful and aromatic product

Chicken Magdalena
Breast of Chicken stuffed with a cream cheese, mayonnaise, red chilli, Parmesan and spinach filling.
> Large 200g portion
> Succulent chicken breast filled with a rich flavoursome stuffing
> Simply oven from frozen

Canape Crowns Selection
A selection pack of canapes, three recipes:
Smoked Haddock and Spring Onion
Chicken and Wholegrain Mustard
Brie and Cranberry
> All are 30g buffet sized canapes
> Oven from frozen
> Different garnishes to identify recipes
> A total of 45 canapes per case

Chinese Plum Duck
A whole breast of Duck with skin on in a rich Chinese plum spiced sauce. Vacuum packed.
> Skin on but boneless whole Duck breast
> Rich Chinese spiced plum sauce
> Vacuum packed for boiling in the bag and then oven / grilling to crisp the skin
> Generous 220g portion

Seafood Wellington
A combination of Scallops, Atlantic Cod and Icelandic Prawns in a creamy dill sauce with mushrooms and a touch of garlic and mustard. Finished with a slice of lemon and dill sprinkle.
> Attractively garnished with lemon and dill
> Handmade
> Combination of seafood in a rich cream and dill sauce
> Oven cook from frozen
New Christmas Range – Download
Download the brochure here: